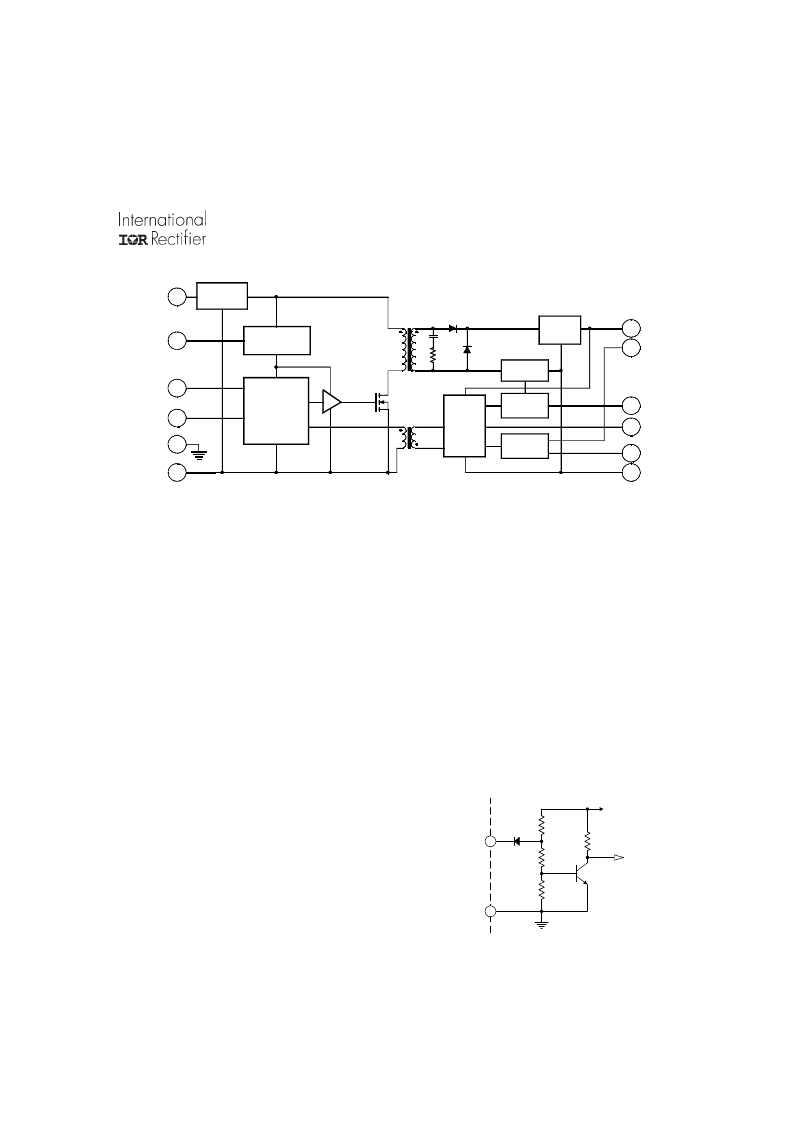 www.irf.com
5
AFL50XXS Series
AFL50XXS Circuit Description
Figure I. AFL Single Output Block Diagram
Figure II. Enable Input Equivalent Circuit
Circuit Operation and Application Information
The AFL series of converters employ a forward switched
mode converter topology. (refer to Figure I.) Operation of
the device is initiated when a DC voltage whose magnitude
is within the specified input limits is applied between pins 1
and 2. If pin 4 is enabled (at a logical 1 or open) the primary
bias supply will begin generating a regulated housekeeping
voltage bringing the circuitry on the primary side of the
converter to life. A power MOSFET is used to chop the DC
input voltage into a high frequency square wave, applying
this chopped voltage to the power transformer at the nomi-
nal converter switching frequency. Maintaining a DC volt-
age within the specified operating range at the input as-
sures continuous generation of the primary bias voltage.
Inhibiting Converter Output
As an alternative to application and removal of the DC volt-
age to the input, the user can control the converter output
by providing TTL compatible, positive logic signals to either
of two enable pins (pin 4 or 12). The distinction between
these two signal ports is that enable 1 (pin 4) is referenced
to the input return (pin 2) while enable 2 (pin 12) is refer-
enced to the output return (pin 8). Thus, the user has
access to an inhibit function on either side of the isolation
barrier. Each port is internally pulled "high" so that when not
used, an open connection on both enable pins permits nor-
mal converter operation. When their use is desired, a logi-
cal "low" on either port will shut the converter down.
1
DC Input
Enable 1
4
Sync Output
5
6
Sync Input
Case
3
2
Input Return
Input
Filter
Primary
Bias Supply
Control
FB
Output
Filter
Current
Sense
Error
Amp
& Ref
Share
Amplifier
Sense
Amplifier
7
+Output
10
+Sense
11
Share
12
Enable 2
9
-Sense
8
Output Return
The switched voltage impressed on the secondary output
transformer winding is rectified and filtered to generate the
converter DC output voltage. An error amplifier on the sec-
ondary side compares the output voltage to a precision
reference and generates an error signal proportional to the
difference. This error signal is magnetically coupled through
the feedback transformer into the controller section of the
converter varying the pulse width of the square wave signal
driving the MOSFET, narrowing the width if the output volt-
age is too high and widening it if it is too low, thereby regulat-
ing the output voltage.
Remote Sensing
Connection of the
+
and
-
sense leads at a remotely located
load permits compensation for excessive resistance be-
tween the converter output and the load when their physical
separation could cause undesirable voltage drop. This con-
nection allows regulation to the placard voltage at the point
of application. When the remote sensing feature is not used,
the sense lead should be connected to their respective
output terminals at the converter. Figure III. illustrates a
typical remotely sensed application.
Disable
100K
290K
180K
1N4148
2N3904
+5.6 V
Pin 4 or
Pin 12
Pin 2 or
Pin 8