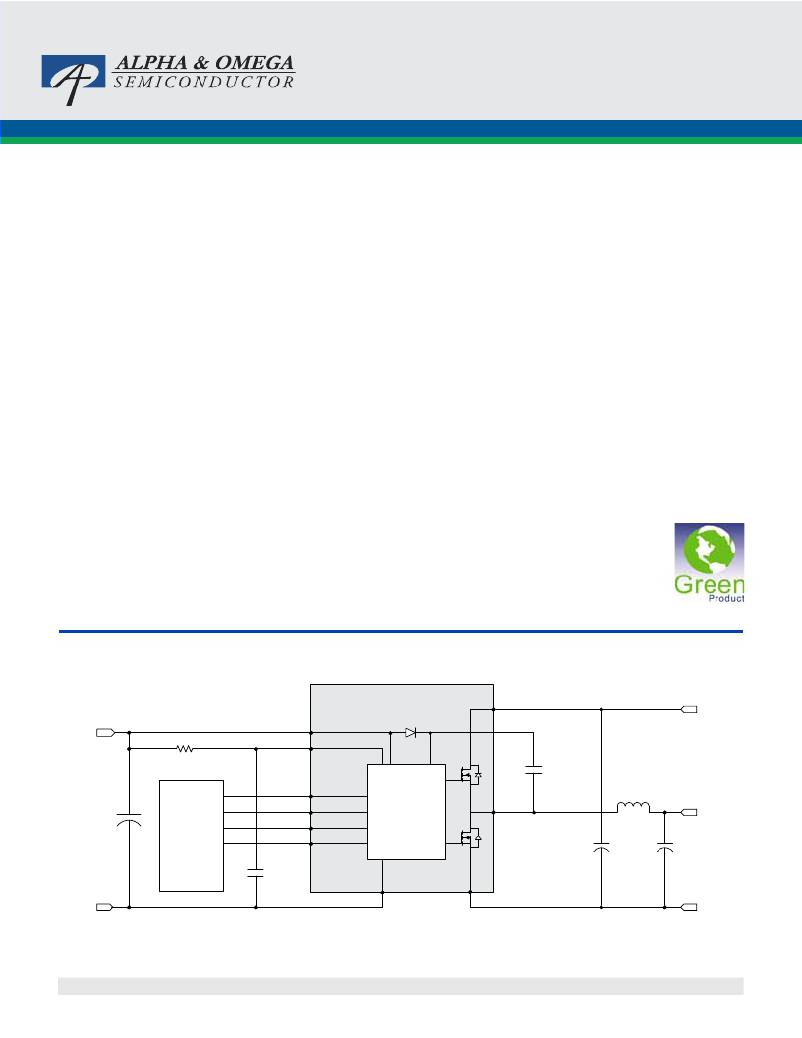 AOZ5006
35A DrMOS Power Module
General Description
The AOZ5006 is a high efficiency synchronous buck
power stage module consisting of two asymmetrical
MOSFETs and an integrated driver. The MOSFETs are
individually optimized for operation in the synchronous
buck configuration. The high side MOSFET has low
capacitance and gate charge for fast switching with low
duty cycle operation. The low side MOSFET has ultra low
R DS(ON) to minimize conduction losses.
The AOZ5006 is available with two PWM options.
AOZ5006QI is intended for use with TTL compatible
PWM inputs. AOZ5006QI-01 has lower thresholds on the
PWM signal and can operate with 3V inputs. All other
parameters are identical for the two versions. Both
versions are tri-state compatible that allows both power
MOSFETs to be turned off.
A number of features are provided making the AOZ5006
a highly versatile power module. The boot supply diode is
integrated in the driver. The low side MOSFET can be
driven into diode emulation mode to provide
asynchronous operation when required. The pinout is
optimized for low inductance routing of the converter
keeping the parasitics and their effects to the minimum.
Typical Application Circuit
Features
? Fully complies with Intel DrMOS Rev 4.0 specifications
? 4.5V to 16V input voltage range
? 4.5V to 5.5V driver supply range
? Up to 35A output current
? Up to 1 MHz PWM operation
? Tri state PWM input
? Undervoltage protection
? Integrated boot supply diode
? Diode Emulation mode of operation
? Thermal shutdown alarm with flag
? Small 6x6 QFN-40L package
Applications
? Servers
? VRMs for motherboards
? Point of load DC/DC converters
? Memory and graphic cards
? Video gaming consoles
AOZ5006
VIN
VIN
+5V
VDRV
BOOT
12V
VCIN
Cboot
PWM
PWM
SMOD
DISB#
Drive Logic
and
Dead Time
VSWH
Lout
VOUT
Controller
THDN
Control
Cin
Cout
CGND
CGND
PGND
PGND
Rev. 1.5 April 2012
www.aosmd.com
Page 1 of 16