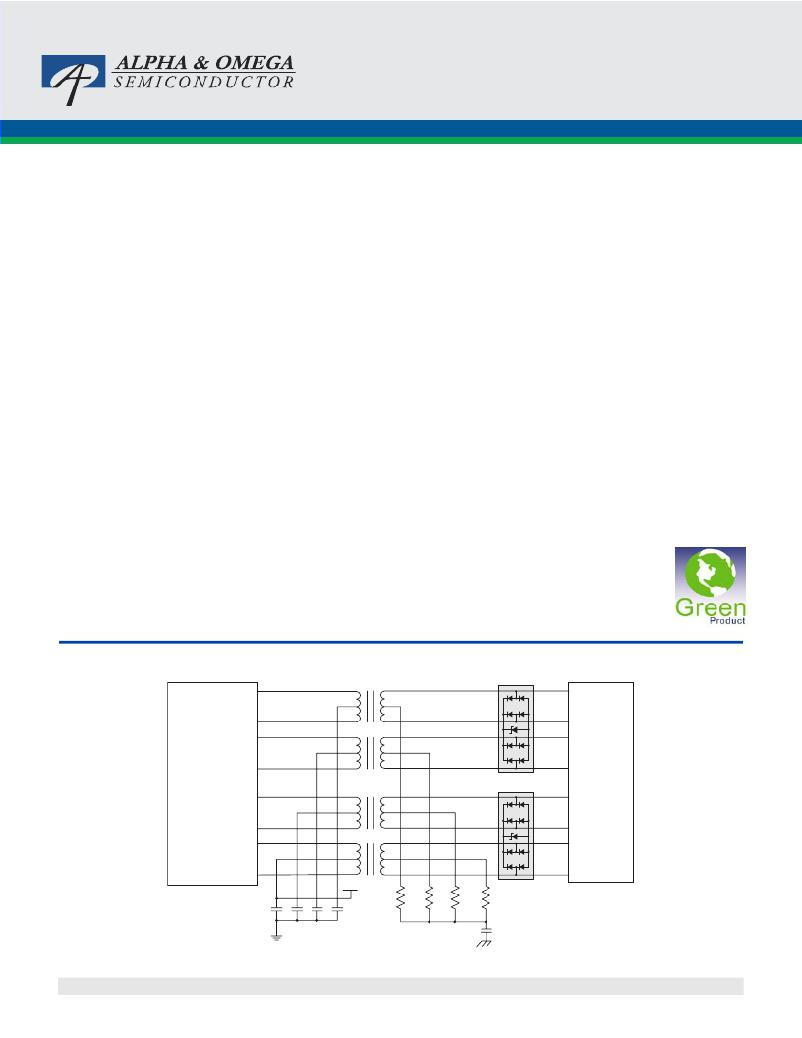 AOZ8304A
Low Capacitance 3.3 V TVS Diode
General Description
The AOZ8304A is a transient voltage suppressor array
designed to protect high speed data lines from ESD and
lightning.
This AOZ8304A incorporates eight surge rated, low
capacitance steering diodes and a TVS in a single
package. During transient conditions, the steering
diodes direct the transient to either the positive side of
the power supply line or to ground. The AOZ8304A
may be used to meet the ESD immunity requirements of
IEC 61000-4-2, Level 4 and IEC 61000-4-5. The TVS
diodes provide effective suppression of ESD voltages:
±30 kV (air discharge) and ±30 kV (contact discharge).
The AOZ8304A comes in a Halogen Free and RoHS
compliant DFN-10 2.6 mm x 2.6 mm package and is
rated over a -40 °C to +85 °C ambient temperature
range. The AOZ8304A is compatible with both lead free
and SnPb assembly techniques. The small size,
low capacitance and high ESD protection makes the
AOZ8304A ideal for protecting high speed video and
data communication interfaces.
Features
ESD protection for high-speed data lines:
– IEC 61000-4-2, level 4 (ESD) immunity test
– ±30 kV (air discharge) and ±30 kV (contact discharge)
– IEC 61000-4-4 (EFT) 40 A (5/50 ns)
– IEC 61000-4-5 (Lightning) 25 A
– Human Body Model (HBM) ±30 kV
Small package saves board space
Low insertion loss
Protects four I/O lines
Low clamping voltage
Low operating voltage: 3.3 V
Green product
Pb-free device
Applications
10/100/1000 Ethernet
USB 2.0 power and data line protection
Video graphics cards
Monitors and flat panel displays
Digital Video Interface (DVI)
T1/E1 telecom ports
Typical Application
AOZ8304A
TRD0+
TRD0-
TRD1+
TRD1-
Gigabit
Ethernet
Controller TRD2+
TRD2-
TRD3+
TRD3-
VCC
AOZ8304A
RJ45
Connector
75Ω
75Ω
75Ω
75Ω
Figure 1. 10/100/1000 Ethernet Port Connection
Rev. 1.1 August 2011
www.aosmd.com
Page 1 of 8