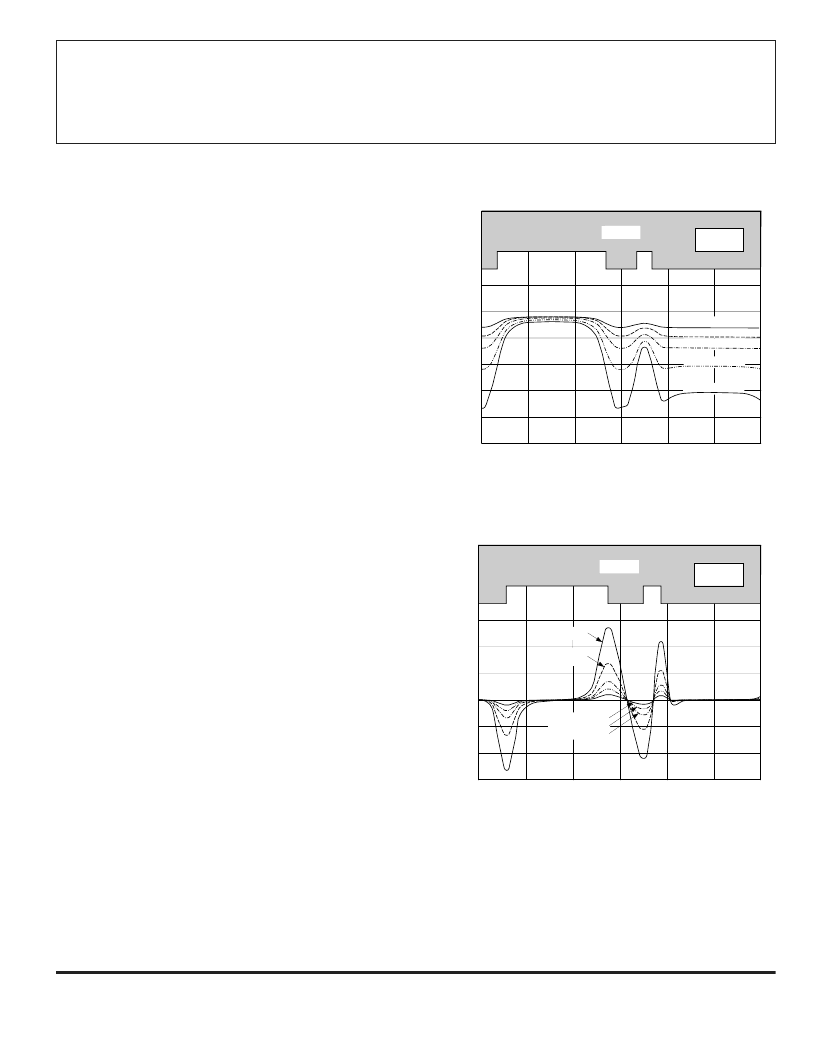 ATS612LSB
DYNAMIC, SELF-CALIBRATING, PEAK-DETECTING,
DIFFERENTIAL HALL-EFFECT GEAR-TOOTH SENSOR
9
www.allegromicro.com
DEVICE DESCRIPTION — Continued
Tilted or off-center installation.
Traditional differen-
tial sensors will switch incorrectly due to baseline
changes versus air gap caused by tilted or off center
installation. The peak detector circuitry references the
switch point from the peak and is immune to this failure
mode. There may be a timing accuracy shift caused by
this condition.
Large operating air gaps.
Operating air gaps greater
than 2.5 mm are easily achievable (dependent on target
dimensions, material, and speed) with this device due
to the sensitive switch points after start up.
Immunity to magnetic overshoot.
The air gap-
in
dependent hysteresis minimizes the impact of over-
shoot on the switching of device output.
Response to surface defects in the target.
The gain-
adjust circuitry reduces the effect of minor gear anoma-
lies that would normally cause false switching.
Immunity to vibration and backlash.
The gain-adjust
circuitry keeps the hysteresis of the device roughly
proportional to the peak to peak signal. This allows the
device to have good immunity to vibration even when
operating at close air gaps.
Immunity to gear run out.
The differential sensor
configuration eliminates the base line variations caused
by gear run out.
Differential vs. Single-Element Sensing
. The differential
Hall-element configuration is superior in most applications
to the classical single-element gear-tooth sensor. As
shown in the flux maps on th
is
page, the
single-element configuration commonly used (Hall-effect
sensor mounted on the face of a simple permanent
magnet) requires the detection of a small signal (often
<100G) that is superimposed on a large back-biased field,
often 1500G to 3500G. For most gear/target configura-
tions, the back-biased field values change due to concen-
tration effects, resulting in a varying baseline with air gap,
with valley widths, with eccentricities, and with vibration.
The differential configuration cancels the effects of the
back-biased field and avoids many of the issues presented
by the single Hall element.
NOTE — 10 G = 1 mT, exactly.
Single-element flux maps
showing the impact of varying valley widths
Differential flux maps vs. air gaps
10
20
30
60
-2000
-5000
ANGLE OF TARGET ROTATION IN DEGREES
-2500
-4000
-4500
0
Dwg. GH-061-1
S
-3500
-3000
T A
°
C
50
40
TARGET
AIR GAP = 0.5 mm
AIR GAP = 1.0 mm
AIR GAP = 1.5 mm
AIR GAP = 2.5 mm
AIR GAP = 2.0 mm
10
20
30
60
1500
-1500
ANGLE OF TARGET ROTATION IN DEGREES
1000
-500
-1000
0
Dwg. GH-061
D
0
500
T A
°
C
50
40
TARGET
AIR GAP = 2.5 mm
AIR GAP = 2.0 mm
AIR GAP = 1.5 mm
AIR GAP = 0.5 mm
AIR GAP = 1.0 mm